The Lash Lift Kit guarantees natural, hygienic, and affordable way to give you that long lash look!
This Lash Kit is suitable for every length of lashes whether short or long. It lifts, curls, and gives the appearance of longer and fuller lashes! 
This Lash Kit is a great alternative to expensive lash extensions. Moreover, this Lash Lift Kit will not ruin or make eyelashes fall out like lash extensions.
It guarantees fast acting, done in 20 minutes! Lash Lift Kit is safe and it will cause no harm to the skin. With its very little smell, this Kit ensures that your lashes can keep lifting for 3 months!
Purchase Hotcakeshop's Lash Lift Kit for a very affordable price, save a fortune for yourself and boost your confidence with long and full lashes!
Lash Lift Kit has the following product features:
Ingredient: Perming Liquid
Weight: 130 g
Package Includes:
5 x pair of Silicone Perming Rod (S, M, M1, M2, L)
3 x Y-Shape Perming Brush
Cleanser Agent x 1 bottle (5 ml / approx. 8 g)
Perming Agent x 1 bottle (5 ml / approx. 8 g)
Fixing Agent x 1 bottle (5 ml / approx. 8 g)
Moisturizing Agent x 1 bottle (5 ml / approx. 8 g)
Perming Glue x 1 bottle (5 ml / approx. 8 g)
False Lashes Glue x 1 bottle (5 ml / approx. 8 g)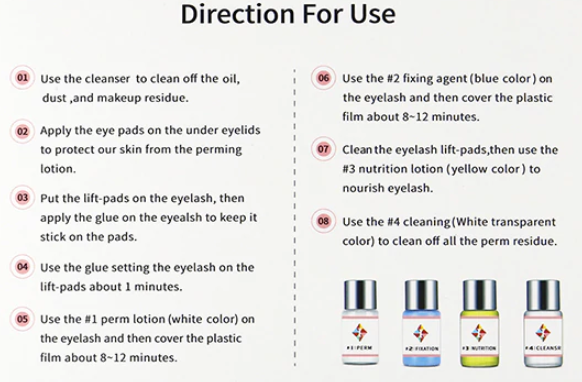 You can find and purchase more useful products, like this, in Hotcakeshop.net
Clothes and footwear for every season, body-shaping gear, a variety of bags, and all sorts of products for your hair and skin? Well, count us in.And we're certainly letting you in on the amazing deals we offer on all women care products, accessories and packages.Doesn't matter if you're getting one tube of lip gloss, you get a deal! And we deliver it to your home, wherever you are. Don't hoard this opportunity. Tell your loved ones, and secure a spot on their holiday gift lists forever.Sounds like a plan, right? Of course, it does. Now, may the shopping begin!
Hotcakeshop's Guarantee
Your complete satisfaction is our top priority. If you have any issues with your experience with Hotcakeshop, please get in touch with us as soon as possible by emailing support@hotcakeshop.net
Shopping with Hotcakeshop comes with zero risk. To help ensure your satisfaction and risk-free shopping, here is our 6-Point Happiness Checklist:
FREE shipping. Complete transparency with no surprises or hidden fees.
Secure payments through Stripe® and PayPal®.
30 Day Money Back Guarantee.
Customer support from real people – no bots!
Tracking provided on all orders.
Encrypted SSL certificates for 100% data security.
—————–
Order now using the 'Add To Cart' button.
Limited Availability! Act Now to avoid missing out!